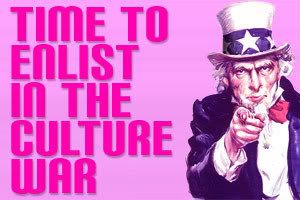 With Minister of the Culture Renaud Donnedieu de Vabres in the background, Nicolas Sarkozy
strongly defended
his plan to create a "minister of immigration and national identity" in the most political savvy way imaginable. Accused of xebophobia and pandering to the extreme-right, Sarkozy announced that he is actually defending the "national identity" from Le Pen's extremism.
"I will continue to speak about the national identity because I do not want to leave the monopoly of the nation to the extreme right-hand side. I want to speak about the French nation because I do not accept the image that Jean-Marie Le Pen gives it."
Sarkozy also stepped headfirst into the culture wars, in which he condemned "the heritage of May 68" and the "cultural and moral relativism."
May 1968
was a time of massive French protests, mainly promoting far-left causes. Ironically, although Sarkozy has always tried to distance himself from accusations that he is an American neoconservative, many American neoconservatives moved away from the American left during the 60's because of the perceived moral equivalency some equated with the Soviet Union and the United States.
Technorati tags:
Ségolène Royal
,
Segolene Royal
,
Nicolas Sarkozy
,
Le Pen
,
Bayrou
,
UMP
,
PS
,
politics
,
politique
,
présidentielle
,
actualité
,
news
,
France