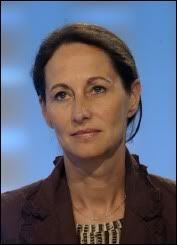 Socialist candidate Segolene Royal
appeared on the France 2
television show "A vous de juger" tonight, admitting that success in this campaign depends entirely on her, and brushing away fears of a Bayrou upset in the first round.
"All depends on me and this is why this combat is absolutely crucial and this is why I am determined to make the French understand me.

A presidential election, by nature, is a direct bond between a person and the French people. It is not the election of a political party. It is not a legislative election."
As for Bayrou, Royal said that "I await his program. We will discuss it. The French will choose. I am trustful. At that moment, there will be the hour of truth."
Despite this honesty (and a bit of bravado with regard to Bayrou), Royal was hounded by questions about the former Socialist economic secretary, Eric Besson, who resigned in disgust soon after Royal's presidential pact was announced. Besson is apparently writing a critical book, in which he says that he fears the election of Royal for his children. Considering that statements like that are rather difficult to respond to, Royal sidestepped the accusation, and tartly replied:
"He has talent, Eric Besson. He should have spoken about France, that would have been more interesting."
Technorati tags:
Ségolène Royal
,
Segolene Royal
,
Nicolas Sarkozy
,
Le Pen
,
Bayrou
,
UMP
,
PS
,
politics
,
politique
,
présidentielle
,
actualité
,
news
,
France